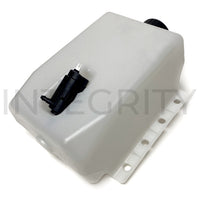 2 in Stock, Ready to Ship.
In stock items ship same day, 4:30 pm EST cut-off time. Next day delivery is available for domestic orders.
Out of stock items typically ship within 5-7 business days, but please contact us for precise lead times.
Wiper Technologies / Diesel Equipment / Freightliner windshield washer reservoir kit. Wiper Tech part number 065400. Tank is 4 quarts with 8 holes, 4 on each side. Pump motor is included. Used in many makes and models of motorhomes / Recreational Vehicles / RVs. Measures 11 inches in length x 8.5 inches wide x 4.25 inches deep.