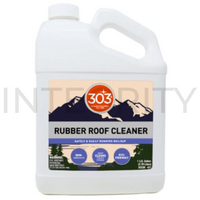 1 in Stock, Ready to Ship.
In stock items ship same day, 4:30 pm EST cut-off time. Next day delivery is available for domestic orders.
Out of stock items typically ship within 5-7 business days, but please contact us for precise lead times.
RV cleaner designed to remove dirt and debris on the top of your motorhome or trailer without damaging / drying out the rubber seals, siding, solar panels, or any other exterior materials on your motorhome. Biodegradable and non-abrasive. 1 gallon / 128 oz. container. Mixing and cleaning instructions on bottle. Integrity RV Parts number 08571338.
Use with roof scrub brush #08571318: RV Roof Scrub Brush 10" Medium Bristle