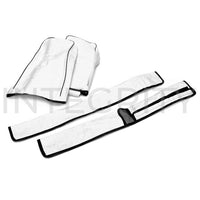 Available in approx. 5-7 business days.
In stock items ship same day, 4:30 pm EST cut-off time. Next day delivery is available for domestic orders.
Out of stock items typically ship within 5-7 business days, but please contact us for precise lead times.
These ADCO slip on covers protect your RV's side mirrors and windshield wipers from premature aging. Great for short-term and long-term RV storage. Fits best on class A or class C motorhomes. This kit includes 2 blade covers, 2 mirror covers, and 1 storage bag. White colored covers, lined with black felt.
Mirror covers measure 18" H x 9" W x 5" D. Wiper covers measure 31" L.
Integrity RV Part number 08571327.