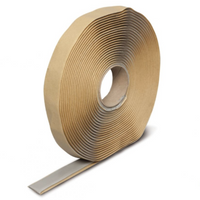 1 in Stock, Ready to Ship.
In stock items ship same day, 4:30 pm EST cut-off time. Next day delivery is available for domestic orders.
Out of stock items typically ship within 5-7 business days, but please contact us for precise lead times.
Dicor RV butyl seal tape, gray. Works great for sealing uniquely shaped joints. Often used on windows, doors, roof vents, and more. Maintains airtight bond with excellent adhesion. Apply to clean and dry surfaces. Comes in a 30-foot roll. Tape measures 3/4 inches wide by 1/8 inches thick (roll measures 30' x 3/4" x 1/8"). Integrity RV Part number 08571325.
*Some butyl tape is more flexible when cold and more stable when warm. For installation, it may be easier to work with if refrigerated for a couple of hours prior to use. It also may help to wet hands slightly prior to installation to prevent them from sticking to the tape.*
Check out our Adhesives, Sealants, & Cleaners collection for more products like this!