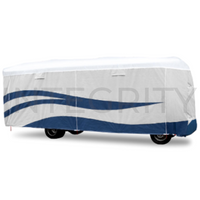 Available in approx. 5-7 business days.
In stock items ship same day, 4:30 pm EST cut-off time. Next day delivery is available for domestic orders.
Out of stock items typically ship within 5-7 business days, but please contact us for precise lead times.
ADCO Designer Series UV Hydro cover for class A motorhomes. This cover measures 40 ft x 106 in x 132 in (40' x 106" x 132") and is recommended for RV's measuring 37 ft to 40 ft in length. White and blue color. This high-quality cover is perfect for long-term or short-term storage of your RV. It is built to protect your RV against all elements in all types of storage climates. Water and UV ray resistant with 4-layer fabric lining.
Includes, RV cover, storage bag, extra adhesive reinforcement material (for small patch repairs), rain gutter spout protectors, ladder cap reinforcement cover, and two straps/buckles. Integrity RV Parts number 08571322.
*Measure the full length of your RV (including bumper and back ladder) to determine which size you need.
- Water / snow resistant coating
- Protects against UV rays that can cause fading and cracking on your RV's exterior
- Wind resistant- the bottom corners of the cover have patented wind channels that provide secure fit.
- Zipper entry on both sides so that you can extend your slide out if necessary.
- Light colored cover helps reduce temperature in warm climates.
- Built in air vents that help provide circulation and prevent mold & mildew.
Other available sizes:
Class A RV Storage Cover 40'-43' (click here)