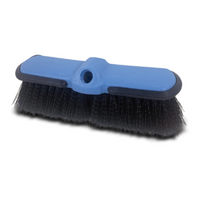 1 in Stock, Ready to Ship.
In stock items ship same day, 4:30 pm EST cut-off time. Next day delivery is available for domestic orders.
Out of stock items typically ship within 5-7 business days, but please contact us for precise lead times.
This Dicor scrub brush is perfect for deep cleaning your RV's roof. This brush measures 10 inches and has medium bristles, which allow for a deep clean without damaging your RV's exterior (10" x 3" x 3"). Helps to easily remove dirt, debris, mold, and mildew. Handle attachment sold separately (#08571330). Water flow through opening so you can attach a hose to the handle when cleaning. Integrity RV Part number 08571318.
*Handle not included. Please use part number 08571330: RV Collapsible Handle Attachment for Scrub Brushes

*Recommended roof cleaning product: RV Rubber Roof Cleaner 1 Gallon

*A soft bristle brush is recommended for cleaning sidewalls and windows. Use part number 08571320: RV Exterior Wash Brush 12" Soft Bristle