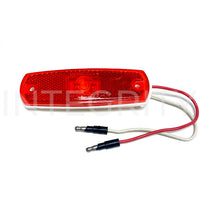 7 in Stock, Ready to Ship.
In stock items ship same day, 4:30 pm EST cut-off time. Next day delivery is available for domestic orders.
Out of stock items typically ship within 5-7 business days, but please contact us for precise lead times.
Clearance Light LED Red. Replaces Grote 9007 incandescent light. Mounting holes are 4 inches on center. Light measures 4 7/8 inches long by 1 15/16 inches wide.