Newmar RV Dometic Motion Sense Toilet Control Panel 8920 DFS Wave 148833
$328.78
SKU: 08548711 Newmar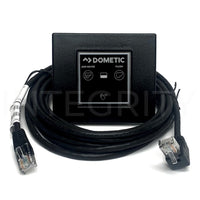 2 in Stock, Ready to Ship.
In stock items ship same day, 4:30 pm EST cut-off time. Next day delivery is available for domestic orders.
Out of stock items typically ship within 5-7 business days, but please contact us for precise lead times.
Newmar RV touchless/motion sense panel 8920 DFS wave / wall switch. HandWave technology motion sensor toilet flusher used with many different Dometic macerator toilets. Touch panel display is backlighted for low light visibility.  Measures about 3" X 3.5" X .38". For class A motorhomes / RVs. Newmar part number 148833. Dometic part numbers 9600006512, 700340146, 12040242C, DFSHW-CTRL, 313419010.