Wiper Tech ZD-1631-12V Diesel Equip RV Wiper Motor 56NM
$179.99 $500.33
SKU: 08479548 Wiper Technologies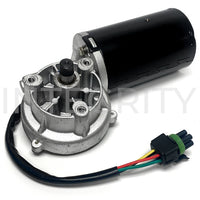 8 in Stock, Ready to Ship.
In stock items ship same day, 4:30 pm EST cut-off time. Next day delivery is available for domestic orders.
Out of stock items typically ship within 5-7 business days, but please contact us for precise lead times.
Wiper Technologies / Diesel Equipment RV motorhome wiper motor 12V 56NM. The harness is a 5-pin round style. 100 watt motor. Used in many makes and models of motorhomes / Recreational Vehicles / RVs. Wiper Tech OEM # ZD-1631-12V. Newmar part number 012128.

Bolt Distance (Center to Center) – 2 3/8 inch
Shaft Diameter – 7/16 inch
Length of Motor – 10 inch
Diameter of Motor – 3 ¼ inch