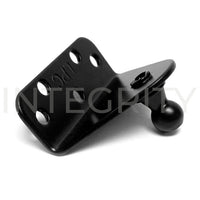 3 in Stock, Ready to Ship.
In stock items ship same day, 4:30 pm EST cut-off time. Next day delivery is available for domestic orders.
Out of stock items typically ship within 5-7 business days, but please contact us for precise lead times.
Newmar RV lift strut mounting bracket 3/4", black powder coat. Also called an RV lift support bracket. The mounting plate area measures about 2 x 3/4 inches. 10 mm ball. For class A motorhomes / RVs. Newmar part number is 141784.
This bracket is used with lift gas struts. You can find these in our Miscellaneous Hardware collection (click here). Some popular struts are part numbers 145169, 23784, and 016660.