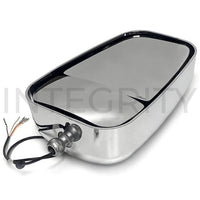 2 in Stock, Ready to Ship.
In stock items ship same day, 4:30 pm EST cut-off time. Next day delivery is available for domestic orders.
Out of stock items typically ship within 5-7 business days, but please contact us for precise lead times.
Newmar RV chrome mirror head assembly, 1350 series. Arm is not included. For class A motorhomes / RVs. Newmar part number is 130764A.
*This particular mirror is built to fit Newmar motorhomes, but we can do special orders for other RV's!