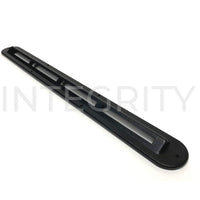 42 in Stock, Ready to Ship.
In stock items ship same day, 4:30 pm EST cut-off time. Next day delivery is available for domestic orders.
Out of stock items typically ship within 5-7 business days, but please contact us for precise lead times.
RV dash defroster vent, louvered black plastic. 4 slots. Dimensions: 21 ½ inches long, 2 1/8 inches wide. Used on many models of Class A RV motorhomes, as well as other vehicles.
**Note: This vent has a flat back with no lip. See fourth photo for reference. (Previous versions of this vent have had a lip around the edge on the back side).