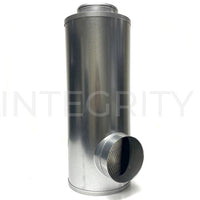 7 in Stock, Ready to Ship.
In stock items ship same day, 4:30 pm EST cut-off time. Next day delivery is available for domestic orders.
Out of stock items typically ship within 5-7 business days, but please contact us for precise lead times.
Freightliner engine air filter with housing. Fits numerous class A freightliner chassis motorhomes / RVs. Measurements of the canister alone are 24" tall, diameter is 9.75". 6" inlet & outlet.