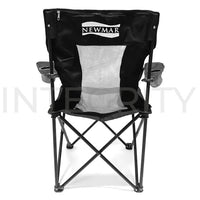 2 in Stock, Ready to Ship.
In stock items ship same day, 4:30 pm EST cut-off time. Next day delivery is available for domestic orders.
Out of stock items typically ship within 5-7 business days, but please contact us for precise lead times.
This Newmar RV logo mesh folding chair is perfect for Newmar owners to lounge in! The color is black with grey and white accents. Has 2 cupholders (one on each arm), a zipper pouch on the back, and comes with a bag to carry the chair. The Newmar logo is on the back of the chair. Newmar part number 026678.