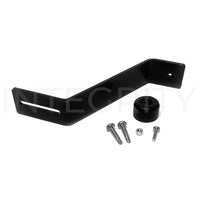 7 in Stock, Ready to Ship.
In stock items ship same day, 4:30 pm EST cut-off time. Next day delivery is available for domestic orders.
Out of stock items typically ship within 5-7 business days, but please contact us for precise lead times.
Newmar RV center support bracket. For full length slide toppers. Added to center of slide out topper 300 inches + to prevent it from being lifted by wind while traveling. Each bend measures about 1 1/4 inches, 4 inches, and 1 7/8 inches (see secondary photos for reference). For class A motorhomes / RVs. Newmar part number 019476.