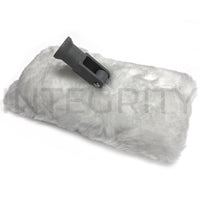 1 in Stock, Ready to Ship.
In stock items ship same day, 4:30 pm EST cut-off time. Next day delivery is available for domestic orders.
Out of stock items typically ship within 5-7 business days, but please contact us for precise lead times.
100% pure lambswool, which is recommended by manufacturers and used by most professionals to clean motorhomes. This assembly includes one lambswool washing pad and one gray pad holder piece. Designed to be gentle and protect finish, while also thoroughly cleaning. Cleaning instructions are included. Can fit under ladders and awning bars. Includes 4-way swivel pad holder.
Measures approximately 9.5" by 5". For class A motorhomes / RVs. Newmar part number 018461.

Replacement pads for this assembly: Newmar RV Lambswool Replacement Pad Small 018461A
Larger 13.5" by 6" assembly also available: Newmar RV Lambswool Pad & Pad Holder 024377