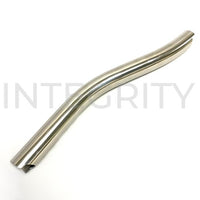 1 in Stock, Ready to Ship.
In stock items ship same day, 4:30 pm EST cut-off time. Next day delivery is available for domestic orders.
Out of stock items typically ship within 5-7 business days, but please contact us for precise lead times.
This polished chrome grab handle has notches on the inside of the curve / on the rear side. Please verify that the grab handle you need has these notches. The handle measures 11.75 inches long and is 1 inch in diameter. No mounting hardware is included. This grab handle can be used to replace the clear acrylic handle for your Class A motorhome/RV. Newmar part number 015168.