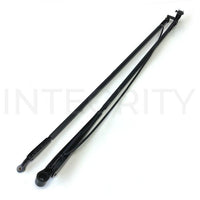 1 in Stock, Ready to Ship.
In stock items ship same day, 4:30 pm EST cut-off time. Next day delivery is available for domestic orders.
Out of stock items typically ship within 5-7 business days, but please contact us for precise lead times.
*These wiper arms are currently on back order. More stock will be available mid-late October. If you would like to place an order, it will ship out as soon as we receive more stock. Thank you!
Pantograph wiper arm for RVs. Dyna brand wiper arm. Measures 28 inches. ISO (Double Flat Shaft). Wiper arm includes pre-installed washer hose and nozzles. This wiper arm works for both passenger and driver side arms. Newmar part number 011503.
Used with wiper blade 03844: Newmar RV Saddle Mount Bolt-On Wiper Blade 24" 03844