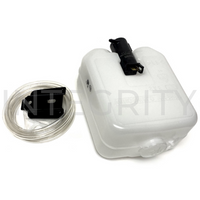 6 in Stock, Ready to Ship.
In stock items ship same day, 4:30 pm EST cut-off time. Next day delivery is available for domestic orders.
Out of stock items typically ship within 5-7 business days, but please contact us for precise lead times.
Denso Manufacturing RV motorhome windshield washer reservoir kit. Includes the pump, bracket, and hose. Used in many makes and models of motorhomes / Recreational Vehicles / RVs. Measures 6.75" wide x 7.5" tall and 3.5" deep.