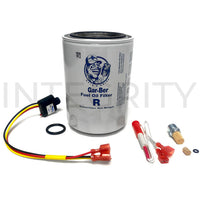 2 in Stock, Ready to Ship.
In stock items ship same day, 4:30 pm EST cut-off time. Next day delivery is available for domestic orders.
Out of stock items typically ship within 5-7 business days, but please contact us for precise lead times.
Service Kit 3 Year for Oasis. CH50 or CH50M (9002,6022,6020,14024,14025,20106). Kit includes ignitor, digital flame sensor, filter element, filter compressor, and O-rings. For class A motorhomes / RVs. Newmar part number 103705L.
Use fuel nozzle 016307 (click here). Call to check compatibility.