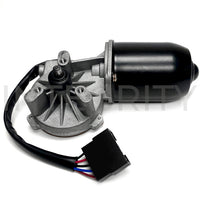 2 in Stock, Ready to Ship.
In stock items ship same day, 4:30 pm EST cut-off time. Next day delivery is available for domestic orders.
Out of stock items typically ship within 5-7 business days, but please contact us for precise lead times.
AutoTex Wexco D103 RV Wiper Motor 5Pin 38 NM Dynamic Park 12V. AutoTex part number 411.01000.3812. 
Bolt Distance (Center to Center) – 1 5/8 inch
Shaft Diameter – ¼ inch
Length of Motor – 7 ½ inch
Diameter of Motor – 2 5/8 inch