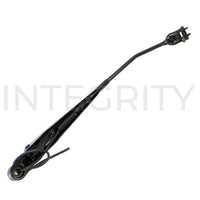 1 in Stock, Ready to Ship.
In stock items ship same day, 4:30 pm EST cut-off time. Next day delivery is available for domestic orders.
Out of stock items typically ship within 5-7 business days, but please contact us for precise lead times.
Newmar RV Class A motorhome windshield wiper arm. The arm has a bolt on saddle mounting style. The plastic wiper bracket cover is included with the wiper arm. This wiper arm is commonly used on Dutch Star models, along with many others. 
Exact Measurements:
From end to end, measuring in a straight line: 31"
From the pivot/bracket end to the bend/angle: 22"
From the bend/angle to the sprayer end: 9.5"
This wiper arm is used on both the driver side and passenger side of the coach. 
Use with Newmar wiper blade 020821, old number 136761A (click here).