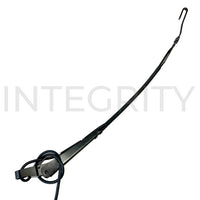 4 in Stock, Ready to Ship.
In stock items ship same day, 4:30 pm EST cut-off time. Next day delivery is available for domestic orders.
Out of stock items typically ship within 5-7 business days, but please contact us for precise lead times.
We are currently out of stock but expect to have more by the end of November. If you would like to place an order, it will ship as soon as more stock arrives. Thank you!
Newmar RV motorhome J-Hook wiper arm, radial. Wiper Technologies brand. Actual length is 29.53 inches. 25-degree bend. Wiper plastic black cap included. Used in many makes and models of motorhomes / Recreational Vehicles / RVs. Manufactured by Wiper Technologies.
The plastic wiper radial arm cover is included with the wiper arm. If you need a replacement cap, they are also sold separately: Newmar RV Plastic Cover for Radial Arm Head 028458
The hook is 1.5" from the center of the hole to top of the curve and is 7/16" wide. This wiper arm no longer comes with a tapered knurl.
Used with wiper blade 011909: Newmar RV Wiper Blade J-Hook 32" / 800 mm 011909