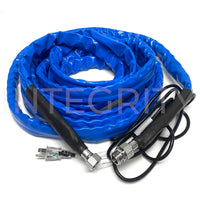 1 in Stock, Ready to Ship.
In stock items ship same day, 4:30 pm EST cut-off time. Next day delivery is available for domestic orders.
Out of stock items typically ship within 5-7 business days, but please contact us for precise lead times.
This Camco heated drinking water hose provides safe drinking water in below freezing temperatures. Measures 25 feet in length. Inner diameter measures 5/8 inches. Self-regulating heating cable and energy saving thermostat help keep your electric bill down. Ideal for temperatures down to 40 degrees Fahrenheit (-40° F/C). Made with a durable exterior PVC jacket to protect the hose and electrical components from damage.
This hose is heavy duty, top quality, and has nickel plated fittings to prevent corrosion over time. Male and female adapter provided, depending on where your electrical connection is located. 120 VAC, uses an 18 AWG 10-foot power cord with LED indicator plug. Lead free and BPA free.
Integrity RV Parts number 08571336.