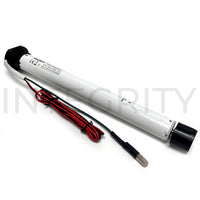 6 in Stock, Ready to Ship.
In stock items ship same day, 4:30 pm EST cut-off time. Next day delivery is available for domestic orders.
Out of stock items typically ship within 5-7 business days, but please contact us for precise lead times.
MCD Innovations remote-controlled electric power shade motor for RV Class A motorhome electric power shades. This shade motor is used on Newmar Class A motorhomes, as well as many other manufacturers and models of Class A motorhomes. 
MCD Part number 50.177 / 50 177 / 50:177. Black Pearl with Sentry Edition, with 15 channels. 12 VDC , 870 mA, 35 RPM, 1.1 Nm. The motor does not come with mounting hardware or the remote. 
This is the current model which is the exact replacement (per MCD/AIRXCEL) for the red MCD RV electric shade 14-channel motor, which was part number 50.174 (28-12V.1). The old Newmar part number was 023046.
Please note: if you are upgrading to the new model 50.177 from the old red motor (50.174 / 50 174 / 50:174), you will need to the new 15-channel remote, MCD part number 50.226. Aside from the remote, there should be no additional mounting hardware needed or retrofitting with the motor's housing.
The motor from end to end (not including the small pegs on the wired end) measures about 11 1/8". The motor's white 'tube' measures about 9 1/4" in length. The diameter of the motor itself is about 1". 
For the required remote control, use MCD 50.226 / Newmar 026389B (click here).