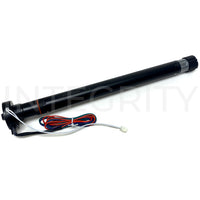 6 in Stock, Ready to Ship.
In stock items ship same day, 4:30 pm EST cut-off time. Next day delivery is available for domestic orders.
Out of stock items typically ship within 5-7 business days, but please contact us for precise lead times.
Class A motorhome RV Auto Motion Shade (AMS) 12V Power Motor for the windshield / dash. Auto Motion part number EL-4270P-1230. Newmar part number 026094. This motor is the 2nd generation / replacement of the 1st generation part number EL-4270-1230. 
This shade motor is switch operated, but must be programmed for the limits.
Use programmer Auto Motion part number EL-215P / Newmar # 023768 (click here). 
Auto Motion 4270P-1230 Windshield shade motor – Newmar 026094
Voltage: 12VDC
Speed: 30 RPM
Diameter: 1" (25mm)
Length: 13" (330mm)
Torque: 1 N.m.
Watt: 10W
Amps: 0.9
Wire gauge: AWG 22
Connector Molex
Please click on the following instruction guide(s) for wiring and programming your motor: 
 Click here for Automotion Shade Motors (AMS) obsolete / replacement cross information.