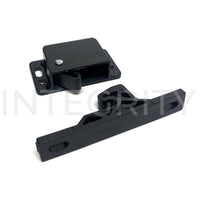 5 in Stock, Ready to Ship.
In stock items ship same day, 4:30 pm EST cut-off time. Next day delivery is available for domestic orders.
Out of stock items typically ship within 5-7 business days, but please contact us for precise lead times.
RV cabinet drawer grabber catch / latch. 10-pound (lbs.) force. Push to close, pull to open. Sold in a pack of 5. Black plastic material, manufactured by SouthCo. For class A motorhomes / RVs. Newmar part number is 124329.
This latch is also sold individually (one pack): Newmar RV Grabber Catch Black 124329 | Integrity RV Parts